The NUmbers Guy: Kelly Amonte Hiller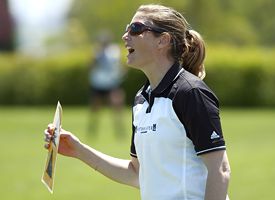 The NUmbers Guy, Jim Sannes (@JimSannes), takes a look at the career of Northwestern Women's Lacrosse head coach Kelly Amonte Hiller. Can you say domination?

Photo Credit: espn.go.com
This past weekend, the Northwestern Women's Lacrosse team decided to go H.A.M. as they defeated number three North Carolina and number 19 Johns Hopkins on Friday and Sunday, respectively. They also went over 40 consecutive minutes without allowing a single goal between the two games. That stuff cray. With a match-up against number 5 Florida coming up this weekend, we decided it was time to take a look at the driving force behind the Wildcats, coach Kelly Amonte Hiller.
6: Number of Women's Lacrosse National Championships Northwestern has won under Amonte Hiller.
They're like Takeru Kobayashi minus the awkward wiggling and vomiting and future jaw arthritis. Considering Amonte Hiller acquired a team in 2002 that hadn't existed since the early 1990's, to reach the pinnacle of the sport after only four years is unbelievable. These championships have all come within the last seven years, with the only blip being a loss in the championship game in 2010, but that that that that that that don't kill you can only make you stronger. In the last seven years, all that I have done is learn how to make grilled cheese, urinate while sitting down, and start a column where I talk about my love for children's television shows and Dan Persa. Awesome.
.871: Amonte Hiller's career winning percentage as head coach of the 'Cats.
This even includes the first two years after Amonte Hiller took over, when the program was just getting restarted, and the team went 5-10 and 8-8, respectively. Over the last eight years, Northwestern's record is 161-7, a winning percentage of .958. The chances of my writing something mildly insightful in this column (not likely) are much higher than those of the 'Cats losing their next game. The 'Cats have gone undefeated twice under Amonte Hiller (2005 and 2009), and they have yet to lose this season. I'm hoping there's no superstition about writing about an undefeated season as there is with talking about a no-hitter, or I'm so screwed.
8: Consecutive years Northwestern has won a share of the American Lacrosse Conference Championship.
Just think about how many tats Ohio State players could get with this much hardware! The last time Northwestern didn't win the ALC Championship, George Bush was in his first term in office, "In Da Club" by 50 Cent was the number one song on the charts, and I was in fifth grade, learning that girls actually don't have cooties (although I still have my suspicions). Amonte Hiller has created a program so consistent that it makes national headlines when they come up short. There is a reason she was profiled on one of the Big Ten Icons segments on the Big Ten Network, and it isn't her secret love of Robocop (so secret that not even she knows about it).
58: Consecutive home victories Northwestern recorded between May 2004 and April 2010.
This is the NCAA women's lacrosse record for most consecutive home victories. No one team should have all that power. This would be equivalent to more than seven consecutive undefeated seasons at home in the NFL or roughly 19 straight series sweeps at home in the MLB. Their homecoming under all of the lights of Lakeside Field has been a welcome sight for the 'Cats since then, also, as they have won their last 17 in Evanston.
3: Days until the big game against Florida.
After taking down North Carolina last week, you may be thinking that Florida will be a cakewalk. ¡¡¡No tan rápido, mis amigos!!! The 'Cats and Gators will face off exactly one year and seven days after Florida knocked Northwestern off last year, starting a two-game skid for the 'Cats. NU recovered, however, as they went on to beat Florida less than a month later to advance to the national championship game. Still, this is a team that the 'Cats have struggled with in the past, and this will be a critical game if they hope to defend their 2011 title. You can catch all of the action right here on WNUR starting with the pre-game show at 12:40 and opening draw at 1:00. We have an appearance from the Tupac hologram lined up, so tell your friends (unless they work for the FCC).