Tales from the Archive: Northwestern NFL Draft History
Matt Keith (@mattlkeith), takes a look at Northwestern's surprising relevance in the history of the NFL Draft.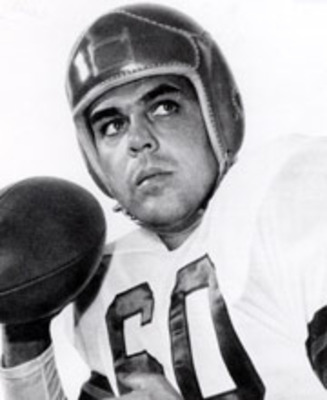 Photo Credit: BleacherReport.com
I love the NFL Draft. It's a time of hope, great stories and vicious arguments. It's also a great opportunity for college football fans to gloat about their newest draftees.
While such an opportunity won't arise often this weekend for Wildcat fans, don't bury your head in shame either. Northwestern has a much more impressive history of sending players to the NFL than you might initially think.
Let's start off by taking a look at some raw stats (courtesy of Pro-Football-Reference.com).
All-time, Northwestern has had 180 players selected in the NFL draft. That puts the Cats somewhere between 40-50 on all time draft numbers lists, which actually vary a bit due to the fact that the NFL Draft wasn't always a big deal, and early records aren't perfect.
Wildcats have been selected in the first round a total of eight times. The first one to achieve such an honor was Otto Graham in 1944, when Detroit used the fourth overall pick on the quarterback. Luis Castillo was the most recent Northwestern player to be taken in the first round, in 2005 by the San Diego Chargers.
Naturally, Graham stands out as the most successful Wildcat ever selected in the draft, although he never played for the team that picked him. Like many other college stars who graduated in the early-mid 1940s, he joined the Armed Forces instead to serve during World War II. In 1946, when Graham was returning to football, he signed a contract to play for Paul Brown in the AAFC, rather than head to the Lions and the NFL.
The rest is the stuff of legend, and has earned Graham a place atop many a football historian's all-time ranking of quarterbacks. In ten years, Graham played in six NFL Championships, winning three, and won an additional four AAFC Championships.
Graham shares the distinction of being the highest a Wildcat was ever drafted with Chris Hinton, who was also selected fourth overall, by the Denver Broncos in 1983.
Now Chris Hinton has drawn the short end of history's stick in a big way. You may remember the player selected three spots ahead of him in the '83 draft, a guy by the name of John Elway. Turned out, Elway wasn't too keen on playing for the Baltimore Colts, who had drafted him first overall, and he demanded a trade.
As you've probably guessed by now, Hinton was the main piece that the Broncos exchanged for Elway. Given that Elway simply wasn't going to play for the Colts, Hinton wasn't bad compensation. He played 11 years in the NFL, started 172 games and made the Pro Bowl seven times, earning induction into the Colts' Ring of Honor.
That's an impressive career to be sure. However, given that the measuring stick for Hinton is often John Elway, he's not remembered as kindly as he should be.
Hinton isn't the only former Northwestern offensive lineman to live up to a high pre-draft billing. In 1968, the San Francisco 49ers made Cas Banaszek the second offensive lineman to come off the board with the 11th pick. Oddly, Banaszek didn't play on the line at Northwestern. He was a tight end, and a pass-catching one at that.
However, his transition to his new position was fairly seamless. By 1972, the Chicago Tribune was calling Banaszek "one of the finest pass blockers in the National Football League." He earned All-Conference honors a few times over his ten year career, and was the captain of some pretty good 49ers teams in the 1970s.
Ironically, the only offensive tackle drafted in 1968 who had an undeniably better career was Rayfield Wright, who captained the Dallas Cowboy teams of the 1970s that Banaszek's 49ers could never overcome. Once again, a beautiful career for a Wildcat got overshadowed by an even better one.
There is another Northwestern player who stands out as a gem of a draft pick – Steve Tasker. The former Wildcat wide receiver was taken by the Oilers in the ninth round of the 1985 draft, and can only be called a steal for going that low.
In his 14 year career, Tasker started only 15 games at receiver. He didn't play defense, and he only returned a grand total of 84 punts and kickoffs, none of them for touchdowns. Yet Steve Tasker made seven Pro Bowls while playing in 169 games and 4 Super Bowls (for the Bills).
Why? Simply put, Tasker is arguably the best special teamer of all-time. NFL.com had him ranked as the ninth best player not in the Hall of Fame three years ago, and since then, two of the guys in front of him have made it to Canton. It might be a big stretch to argue that Tasker belongs in the Hall, but the fact that he made anybody's list should tell you how great he was at what he did.
Tasker, Graham, Hinton and Banaszek are merely a sampling of Northwestern's NFL draft picks. Plenty of other Wildcats have carved (or are currently carving) out nice careers for themselves in the NFL.
Does it mean Northwestern is on par with USC or Miami in churning out pro talent?
Of course not. But don't believe for a second that NU has no draft history. Hopefully any Northwestern seniors drafted on Saturday realize the past success of a few of their predecessors, and draw inspiration from the accomplishments of the 180 Wildcats who went before them.