Feed the Post: Big Ten Mascot Power Rankings
WNUR Sports Online Content Director Cameron Songer (@CameronSonger) tackles one of the big questions of life: which of the mascots of the Big Ten is the best?
With Northwestern men's basketball in the middle of a three-game losing streak and the women's team on a four-game slide, I decided to take a break this week and tackle one of the most important issues in all of Big Ten sports. It's about time someone made a definitive list that ranks the conference's schools and their mascots. My super-scientific categories are below.
Criteria:
University Representation: How well does the mascot represent (my perceived) identity of the university and its teams?
Fan Friendliness: How approachable is the mascot for little kids?
Fierceness: Is the mascot appropriately tough? There is a fine line. Don't over-do it.
Stands Out: Does the mascot command attention in a crowded room? This has a lot to do with size. Big mascots are better.
Viral Potential: Vaguely defined as the "it factor." Think online memes.
12. University of Illinois: No mascot
There used to be a mascot for the Fighting Illini, Chief Illiniwek. After decades of controversy, it was ultimately ruled by the NCAA and the university that the school would stop using the mascot due to new rules about Native American mascots. The name "Fighting Illini" stayed because it referred to the state, not a tribe. Got it? Me neither. For taking until 2007 to remove what most long believed to be a racist mascot, Illinois comes in dead last on this list.
11/10 (tie) University of Indiana and University of Michigan: No mascot
In all fairness, it's better that these programs have gone this long without a mascot. The first thing that comes to my mind when someone says "Michigan Wolverines" is the iconic winged helmet. Similarly, the image of Indiana's classic striped hoops warm-up pants is too timeless for a goofy mascot. Plus, what would a Hoosier look like in mascot form? Maybe Nebraska can answer that.
9. Nebraska: Herbie Husker


University Representation: 3
Fan Friendliness: 3
Fierceness: 1
Stands Out: 1
Viral Potential: 2
This mascot is terrifying in a Chucky or some other horror movie kind of way. Why is he so happy? Much like Pierre the Pelican, it probably sounded like a good idea at the time, but something went horribly wrong in the design process. Plus, a bunch of Nebraska fans just call their team "Big Red," or go the other way and wear those silly corn hats. Too many identities. Pick one and stick with it. Speaking of too many identities, the school has a second mascot named Lil' Red. Apparently, this thing where he goes upside-down is a regular occurrence. Yikes.
8. University of Iowa: Herky the Hawk


University Representation: 3
Fan Friendliness: 1
Fierceness: 4
Stands Out: 1
Viral Potential: 2
Too fierce. Herky would terrify me if I was a small child. Also, it looks like it hasn't been updated in a while. Those arm wings look like they were made by someone's grandma in her spare time. Mascots in the 21st century have to be a bit more… modern.
7. Purdue University: Purdue Pete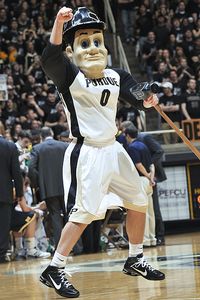 University Representation: 3
Fan Friendliness: 2
Fierceness: 2
Stands Out: 2
Viral Potential: 3
Loses points for having to share the spotlight with a train called the Boilermaker Special. I get that the train is an important part of the school's history, but, like Nebraska, we're talking about a split identity here. Also, it's hard to have a mascot based on a person look cool. Purdue's approach to a human mascot face is very different than Nebraska's. Pete looks deeply concerned about something. Is he a mascot or a philosopher? I also like mascots that take up a little more space. (But not as much space as Lil' Red. Does that make sense?)
6. Ohio State University: Brutus


University Representation: 5
Fan Friendliness: 4
Fierceness: 1
Stands Out: 2
Viral Potential: 4
Kinda doomed from the start, since a tree nut is pretty hard to work with when it comes to making a mascot. In the past, Brutus has looked skinnier, but it looks like he's bulked up since then. Ohio State should make like their rivals from the north and go mascot-free. Either that, or embrace the whole "nut" thing and make that the whole costume, like Syracuse's Orange. I'm a fan of this look, but apparently the university or the students weren't. Changing back or removing the mascot will probably never happen, since Buckeye fans are crazy about Brutus. Insert your own joke about the state of Ohio.
5. University of Minnesota: Goldy Gopher


University Representation: 4
Fan Friendliness: 5
Fierceness: 1
Stands Out: 3
Viral Potential: 4
Too cute. Who's afraid of that face? No one. Goldy also loses points for riding around on a Segway. I mean, c'mon. A Segway?
4. Penn State University: the Nittany Lion


University Representation: 5
Fan Friendliness: 3
Fierceness: 3
Stands Out: 4
Viral Potential: 3
Nothing remarkable about this mascot. A lot like Penn State's overall visual brand for their athletic department. The scarf is a nice touch. The Nittany Lion is close to moving up in these rankings, but it needs just a little more pizzazz.
3. University of Wisconsin: Bucky Badger


University Representation: 5
Fan Friendliness: 4
Fierceness: 3
Stands Out: 4
Viral Potential: 3
And that pizzazz comes in the form of… a striped sweater? Sure, why not? Bucky is clearly a badger, but the thing that sets him below our top two mascots is the eyes. Those plain black eyes are a bit too lifeless for my taste.
2. Michigan State University: Sparty


University Representation: 5
Fan Friendliness: 5
Fierceness: 4
Stands Out: 5
Viral Potential: 4
There's no doubt Sparty is popular. He always seems to be in the running for the Capital One Mascot Challenge, although he's never won. Those muscular arms are one-of-a-kind, and the Spartan helmet is the iconic logo of MSU athletics. So what is there to complain about? I took points off for being too fierce. Does he need those huge arms and a scowl on his face? Probably not. Turn that frown into a cocky little smirk and we've got a different discussion. Swag. But for now, he's number two.
1. Northwestern University: Willie the Wildcat

University Representation: 5
Fan Friendliness: 5
Fierceness: 5
Stands Out: 5
Viral Potential: 5
Call me a homer. I don't care. Willie is awesome. I don't care that he's
not the only Willie the Wildcat
. Notice how I didn't make originality a category? It's nice to make the rules. Willie is the perfect combination of cuddliness and fierceness, because he's just crazy enough to keep you on your toes. As for the viral potential category? Willie owns it. I spent 30 minutes scouring the internet for
this picture of Nyan Cat Willie
, so he wins. Deal with it.