Northwestern vs. Nevada Film Study
At WNUR Sports, we'll be doing a weekly film study where we break down 4-5 plays that defined the game and include some quotes from the players and Coach Fitzgerald on what happened on those plays. 
The Wildcats started the season 1-0 with a comeback win against Nevada in week one. Down 17-7 at the end of a shaky first half, Pat Fitzgerald's team made the necessary adjustments and outscored the Wolf Pack 24-3 in the second half en route to a 31-20 win.
Wolf Pack Touchdown to Take 14-7 Lead
Northwestern talked all week before the game about not knowing what to expect from offensive coordinator Matt Mumme's "air raid" offense. Ty Gangi's second touchdown throw exemplified a lot of of what Northwestern struggled with during the first half.
All of the short passes Nevada completed set up a play like this — a deep ball designed to exploit Northwestern cornerback Marcus McShepard, who replaced the injured Keith Watkins II. Northwestern rushed four, kept two linebackers and slot corner Kyle Queiro in short zones and dropped the two outside corners and safeties. At least on the right side of the field, it was a Cover 4. Nevada ran a deep switch, aided by a fake HB swing.
This play came down to Marcus McShepard, and he got burned for two reasons. First, the rest of the secondary turned as soon as Gangi did not release the ball to the flat. McShepard never turned, as he was watching the HB action. He probably would have been okay if Nevada ran two verticals on that side. Instead slot receiver McLane Mannix "switched" outside and McShepard was too slow to recognize the switch and/or safety Godwin Igwebuike didn't communicate it in time.
It's clear McShepard is beat when he is parallel with Mannix and facing the wrong way. Gangi released at exactly that time and capitalized on a reeling secondary. You can add that Northwestern's pass rush did not get to Gangi in time, but tight end Brandon Scott was there to clean up the only one-on-one the Wolf Pack line loses.
Wildcat Touchdown to Tie At 17-17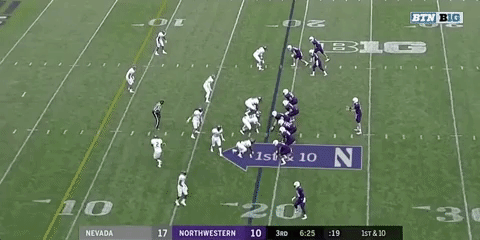 Riley Lees?!? The redshirt freshman, who was not on the depth chart, caught his second career pass for a touchdown. He ran an excellent crossing route between the zones and used his momentum to score. But the reason why Lees, and so many other receivers, made their way into the box score Saturday was because of Clayton Thorson. The junior quarterback had an excellent day and this throw showed how much he has matured.
Nevada lined up in its base 3-3-5, and only rushed those front three, leaving eight in coverage to guard four receivers and a tight end. The cornerback in press on the far side and the linebacker at the line cover the flats, leaving two rows of zone coverage behind him. The far safety is playing a shallow zone with the near safety and both outside cornerbacks dropping deep. When Lees makes his cut inside, the far safety lets him run because he assumes he has help over the top from his other safety or from his linebackers underneath.
Garrett Dickerson's corner route from the middle occupies the near linebacker leaving just the far linebacker and a safety to beat. Seems simple enough, and Thorson makes it look simple enough, but this is a truly incredible pass from No. 18. It just sails over the outstretched arms of that Wolf Pack linebacker and hits Lees in full stride for a beautiful touchdown.
With eight in coverage, the Wolf Pack dared Thorson to beat them with his arm. The routes from Lees and Dickerson turned four in the middle to two, and Thorson made Nevada pay.
While Thorson never looked bad in the first half, the Wildcats left points on the board from a missed field goal and a fumble. The execution tightened up in the second half, as Thorson had his way with the defense.
Fourth and One Stop with Nevada Down 24-20
Despite Northwestern's comeback, Nevada still had the ball with four minutes and change to drive for a potential game-winning touchdown. The Wildcat defense continued to clamp down on Gangi and co., despite losing McShepard and Brian Bullock to injury, and having to roll with Moe Almasri, a graduate transfer walk-on. That makes this play all the more confusing. Fourth and one with the game on the line, and Mumme subbed out Ty Gangi and put in backup quarterback Griffin Dahn to run a QB keeper.
You can see what Mumme is thinking — his team thrived on the element of surprise all afternoon and Northwestern made mistakes when it didn't know what was happening. But he put six men on the line, and three in the backfield. It made his intentions to run pretty clear.
Even then, Northwestern has seven in the box, and Godwin Igwebuike has to protect Moe Almasri. Montre Hartage and Kyle Queiro are responsible for the two backs on the near side but are not planning to blitz, because Northwestern has to respect the pass. This play might have worked with the right guard for Nevada pulling left and setting the key block for Dahn on Warren Long.
Fortunately for the 'Cats, Joe Gaziano is a beast, and he blows up this entire play by beating the left tackle, Jordan Silva, who is listed as a defensive end, inside. Dahn can't go left, Gaziano got an initial hit, and Dahn ran into a pile of bodies. Turnover on downs.
I get wanting big bodies on the field, but Jordan Silva is, ahem, not going to block Joe Gaziano. Warren Long is not going to play coverage and if he's on the field, he's blitzing. As Nevada special teams found out, good luck stopping him at full force.
Mumme here should pass the ball and pick on Almasri. If he really wanted to run up the middle, spread Northwestern out with at least three receivers. Northwestern's front seven was always going to have the physical edge, and its conditioning had been shining through in the fourth quarter. Mumme and Norvell neither played to their strengths nor read the trend of the game.
Third and Seven 41-Yard Completion to Macan Wilson at 24-20
After the turnover on downs, the NU offense still had to either run some clock or punch in a score to make it a seven or 11-point lead. After a holding penalty and then a few rushes, Northwestern had a dicey third and seven conversion to make, or risk punting and giving the Wolf Pack the ball back.
Conventional wisdom says to run the ball, especially with 2:50 to go. Mick McCall wisdom says run Justin Jackson to the outside but don't give him any blocking. Instead, this is actually a gem of a McCall. Northwestern had two receivers out to either side and two superbacks on the right side of the line with Jackson in the backfield. A running formation, and Nevada appropriately put five men on the line, two linebackers in the box and a safety playing very shallow.
Nevada sent the blitz expecting the run and crashed the line. Jackson and Dickerson are there to pick up the blitz, and Thorson has enough time to uncork his deep ball.
Thorson saw only one safety deep and must have licked his chops. If that safety even bites a bit on the play-action to Jackson, Thorson launches a deep ball to Wilson and lets him make a play one-on-one. If not, he probably still has Flynn Nagel underneath. The safety is just a half step slow to turn, but the outside route by Wilson means he has no chance of covering the sideline by himself.
It would be one thing if Thorson hung the ball up for a 50-50, but instead he dropped a perfect spiral in Wilson's lap. The corner is a half-step behind, but if the throw has any less arc, he gets a finger to it. Having the confidence as a staff to call this play on third-and-seven and as a quarterback to take a deep throw shows some of the electric potential this offense has.
The Wildcats' adjustments at half time won the game, and as the physically better team, they put themselves in positions to dominate. They can't afford to start as slowly against Duke, and even with such a dominant second half, they needed two fourth-and-one plays, a stop, and a quarterback sneak to go their way to get the win.