Freshman Film Breakdown: Defensive Line + Linebackers
By Tim Hackett
Editor's note: The Northwestern Football team begins its season in less than a week, opening the 2018 slate this Thursday against Purdue. Just like any good student of the game, we here at WNUR Sports log plenty of hours in the film room. Over the next five days, one of our broadcasters will analyze some of the high school film of the incoming freshman class. Keep in mind, the plays we've selected do not define the players. It's difficult to get a strong grasp on any player just by some high school film, but this series will help us and you to get familiarized with the latest batch of recruits.
TODAY'S AGENDA:
Jaylen Rivers

Grayson Mann

Khalid Jones

Devin O'Rourke

Andrew Leota
Jaylen Rivers
3★ ATH // 6'2", 211 // Decatur, Georgia
Other notable offers: Louisville, Ole Miss
Biggest Strength: Versatility
Plays like this are pretty emblematic of Rivers' highlight tape. He begins the play as a lineman/linebacker hybrid, in a two-point stance with three down lineman on his plane and a number of "true" linebackers on the second level. A guy with his speed is extremely difficult to block from this stance, and on this particular play he's left completely unmarked once the tight end goes in motion. The play is going to the offense's left, but Rivers gets into the backfield and diagnoses the fake handoff quickly enough to scare the quarterback into a bad pass.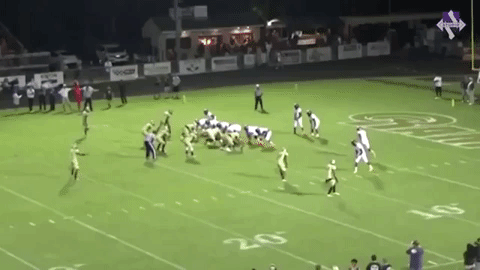 Similar set-up, similar result: Rivers as a left-side hybrid with three down linemen and three "true" backers. Only this time, the offense runs the play to Rivers' side of the field, and he blows it up, barreling through an attempted pancake block by the tight end to get the first contact on the running back. This shows more good instincts and strength.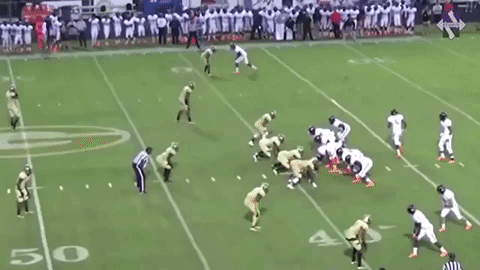 Here Rivers is lined up more like a "true" linebacker, but starting out from the second level doesn't slow him from sniffing out the play and staking out a streaking quarterback, fighting through a pseudo block (read: hold) and spearheading a squad of runstoppers.
Summary: Rivers' versatility has earned him the "athlete" tag from scouts – he played plenty of linebacker in high school, but also has experience at safety and wide receiver. His defensive acumen and ability to flow between positions are the real takeaways here, as he looks to be pretty good in coverage and adept at both rushing the passer and tackling in space. A comparison to Nate Hall, both in terms of usage and ability, is really not an unfair one. Rivers could easily become a good hybrid/dime backer, but the area I didn't see on film (predictably so) was him really having to fight through blocks – he'll be facing much better o-line competition in the Big Ten than he did in high school.
Grayson Mann
3★ ILB // 6'0", 220 // Fort Worth, Texas
Other notable offers: Arkansas, Nebraska
Biggest Strength: Relentlessness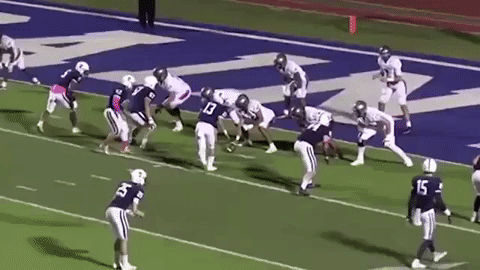 Mann had 28 sacks in his prep career, and while this is technically a tackle for a loss and not a sack, it highlights his ability to read the offense and then make a play. I'm not sure my old offensive line coaches would particularly enjoy watching this clip, but from a defensive standpoint, it's a thing of beauty. Hemmed in at their own goal line, the offense attempts a right-side jet sweep, but Mann sniffs it out and takes down the ball carrier.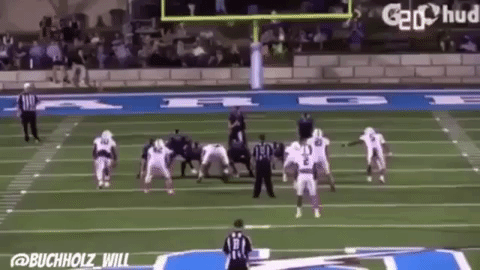 This tackle for a loss showcases another of Mann's attributes: pursuit. His ability to diagnose a crafty play, adjust his own trajectory to stay on top of a runner, and ultimately make a tackle on a slippery runner is impressive. Having edge rushers that can pressure a quarterback from a stand-up start is extremely useful, but having linebackers that can make reads on ball carriers is even better.
Summary: All I can say is I feel awful for the poor offensive tackles that had the job of trying to ward off Grayson Mann the last few years. The dude is relentless. The attributes seem to be there: speed, relentlessness, flexibility, and a "nose for the ball." I can only assume he'll get stronger as his first year with Northwestern goes along, but if he can deal with collegiate tackles the way he dealt with high school ones, beware. Two things I didn't see on tape: over-celebration of sacks (a good thing), and much work in coverage. This isn't necessarily bad if he excels at pass rush and run gap plugging, but a deficiency in coverage would limit him to primarily blitz schemes and special teams work, which makes him much easier to key in on.
Khalid Jones
4★ ILB // 6'1", 228 // Greenville, South Carolina
Other notable offers: Tennessee, Ole Miss, Wisconsin
Biggest Strength: Range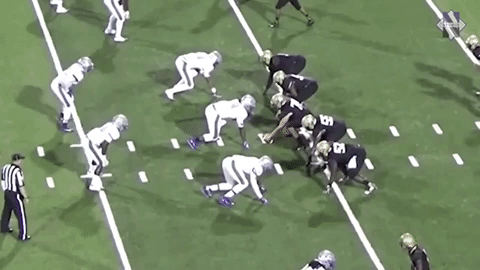 And now, we present to you the jewel of this linebacking class: Khalid Jones, a four-star prospect (by ESPN) rated as one of the 15 best inside backers in the country. Let's start here: the defense comes out in a zone scheme with three linemen and three backers, with Jones in the middle. As the Will backer tries to shoot the gaps, Jones adjusts his route and chases down the running back to prevent bigger damage. This is a good diagnosis and execution, with a punishing tackle at the end to boot.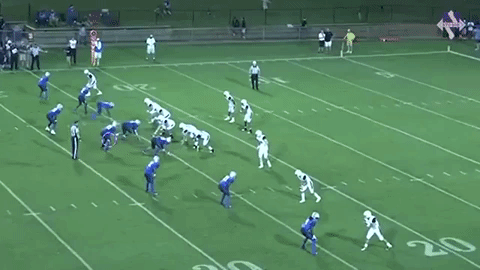 This is one of my favorite clips from the film. I love when a defensive player can adjust to an imperfect situation and recover to make a great play. On this play, the linemen push off their initial blocks quickly to go set up for a screen, so all the rushers think they're home free. The quarterback barely gets the pass off and Jones, realizing the rest of his team isn't going to get there in time for the sack, cracks back to track the pass and take down the receiver immediately. This is smart stuff.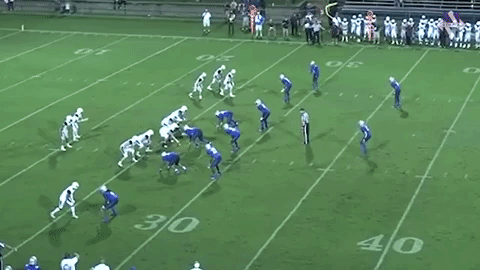 What's that you say? You'd like your inside backers to be able to cover as well? I like the way you think. In addition to a sack and eight TFLs his senior year, Jones tallied three pass breakups and this interception right here. Frankly, the quarterback makes a terrible read – the crossing receiver was much more open – but Jones made the read tough with his positioning and showed good ball skills to reel in the interception. It's honestly not the cleanest play on either side, but Jones ends up with a literal highlight-reel play as a result.
Summary: Linebackers like Khalid Jones are my kind of guys – and, clearly, Pat Fitzgerald likes them, too. Just look at his recent track record at the position stemming from, of course, when he manned that position himself. Obviously it's much too soon to say if Khalid Jones will be the latest version of Pat Fitzgerald or Anthony Walker, but he's got a lot of the tools: range, adaptability, pursuit, and a great tackle. He was named the Defensive MVP of this year's Carolina Shrine Bowl (a pretty big event in the area, believe me), and his highlights from that game are impressive, too. He's a guy to watch for sure.
Devin O'Rourke
4★ SDE // 6'6", 246 // Mokena, Illinois
Other notable offers: Penn State, Wisconsin
Biggest Strength: Impact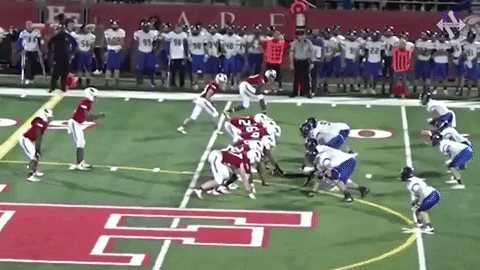 Devin O'Rourke has every chance to have the biggest impact out of anybody in this class. He's a strongside defensive end that's a consensus four-star recruit consistently ranked as one of the 15 best at his position in the country. It's not hard to see why: O'Rourke is far too strong for one offensive tackle, guard, or tight end alone to handle. Consider this clip Exhibit A: the tight end attempts to block O'Rourke inside, but the end simply stands up and shimmies around him. The tackle can't get over in nearly enough time, and O'Rourke has a clear shot an an unsuspecting quarterback.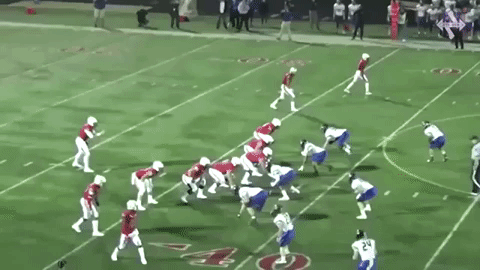 So we've already established that a double-team is a virtual necessity against O'Rourke, but if you're going to sacrifice two players just to block him, make sure they hold their ground. The quarterback is already deep behind the center, but the two blockers can't account for O'Rourke's speed – their first steps are backwards and unsettled, and they can't recover. O'Rourke chases one to the outside, then charges back inside, leaving some ankles behind before he introduces the quarterback to the ground. He's a blocking scheme destroyer.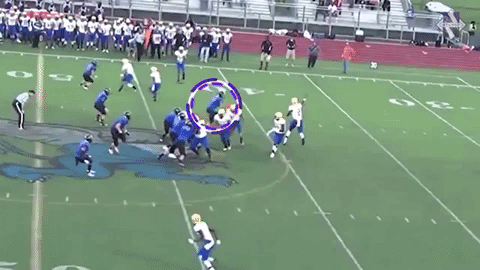 There are plenty of clips of O'Rourke getting after the quarterback, so let's mix it up a little bit. Here, he's purposefully allowed a clear look at the quarterback because it's a screen pass, and O'Rourke, realizing he has no chance to get his hands on either the passer or the pass, instead reads the play and hunts down the receiver faster than anyone that started the play closer to the sideline. In a 4-3 defense, you love your defensive ends to create pressure, but you need them to edge contain as well – O'Rourke does an excellent job here on a play that a slower player would never have made.
Summary: Having a game-breaking defensive end is a surefire way to sow doubt in a quarterback's mind. Northwestern has a couple good pass rushers already in Joe Gaziano and Sam Miller, but having more on retainer is never a bad idea. Just because of the bodies at the position, I wouldn't be surprised if O'Rourke redshirts his first year in Evanston, but thanks to the new redshirt rules, Fitzgerald and company will get plenty of opportunities to see how O'Rourke holds up against collegiate players. This guy can easily become a first-team end before his college career ends.
Andrew Leota
3★ WDE // 6'4", 239 // Asheville, NC
Other notable offers: Tennessee, Virginia Tech
Biggest Strength: Playmaking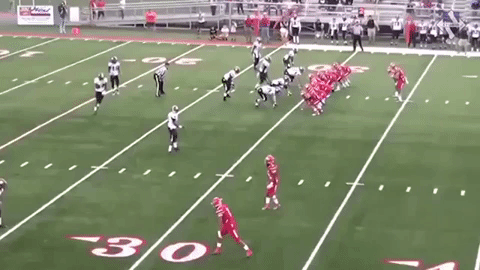 Didn't we say you can never have too many disruptive pass rushers? Well, here's another one: Andrew Leota, a consensus three-star (but nearly four-star) weakside defensive end prospect who recorded the most sacks in the history of his high school. With only a three-man front, the defensive line does an excellent job of blowing up this run that seemed to purposefully be run away from Leota's right end spot. Regardless, he fills the gap vacated by the center (the left guard does not step up) and obliterates the running back behind the line. A pretty good start.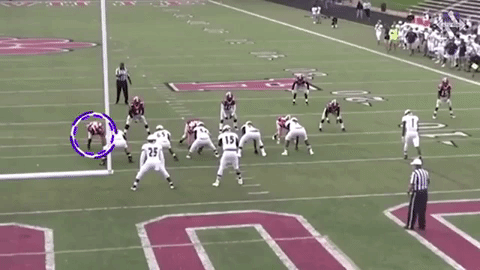 Edge rushers like Leota demand a double-team on practically every play, and Leota encounters one here – the running back (#25) actually does a very nice job in helping the tackle work Leota to the outside, ultimately behind the quarterback and thus "out of the play." Then, I feel Leota gives up on the play a little bit – just after the running back contacts him, Leota stands up, as if to signal that his involvement in the play has run its course. But, encouragingly, once he sees the quarterback run back into his half of the field, Leota reengages and is responsible for bringing him down (and now it's the running back that's given up). The recovery part of this play is the takeaway point for me – he responds to adversity and a well-executed tandem block correctly.
Summary: Like we said earlier, NU is actually in pretty good shape in the pass rushing defensive end category for this season, so it's tough to envision a situation where Leota plays immediately. Still, Fitzgerald said at Media Days that he loves the NCAA rule change allowing first-years some game action before a redshirt must be assigned, so there's every chance Leota gets some exposure in game action before the coaching staff makes any decisions. The tape speaks for itself: Leota is a highly capable rusher who had a highly successful prep career. Now let's see what he can do at the next level.
That's all for today's session. Come back tomorrow for Day Two of the Freshman Film Breakdown from WNUR Sports.