✶ ✶ ✶ ✶
Northwestern entered 2020 on a hot streak, having won seven in a row. At 12-1, the Wildcats were off to their best start since 2014-15, the last time they reached the NCAA Tournament. Their first opponent of the new decade was Iowa. The Hawkeyes came into Welsh-Ryan Arena at 10-3 on the season.
 
Kate Popovec, Assistant Coach: It's so hard when you come off those big wins to refocus your energy on the next opponent. But it's a really necessary thing to do to be successful throughout the course of the year, and that's what winners do. Winners win, and they focus on the next opponent.

Kevin Sweeney, WNUR Sports: I felt like for the first time, there was real buzz about the team. You could try to sell your friends on how good this team could be. 
 
Kate Popovec, Assistant Coach: Iowa's a really good team. They're always a good team, and their style of play lends to having very explosive offensive efforts. They've always been that way.

Margaret Fleming, WNUR Sports: (Amanda) Ollinger outplayed us in the post all day, and (Monika) Czinano. The two of them were so dominant. And then they have Makenzie Meyer and Kathleen Doyle, those seniors who are just so good. As it kept going, (Northwestern's) down five and you think, "Okay. It's just down five, and it's back and forth." Then down 10, you think it's gonna be a comeback. And then slowly you realize that it's not gonna happen, which was so weird because at that point, Northwestern's only loss was DePaul. We hadn't really seen them struggle with a big deficit yet. Everything had been really easy or a close game down to the wire, so it was not a team that I was used to seeing at all.
 
Kevin Sweeney, WNUR Sports: They got humbled in every sense of the word. It was so demoralizing because the recipe that had worked all season long was just not there.
 
Margaret Fleming, WNUR Sports: There were so many Iowa fans. It was disheartening, really. Behind the visitor's bench was all yellow, and they were louder than Northwestern people for sure which made it kind of worse. At that point it was kind of just waiting for the game to be over.

Kate Popovec, Assistant Coach: Sometimes you need a little slice of humble pie. 

Kevin Sweeney, WNUR Sports: I remember Joe coming over to the table postgame, and he was mad. But he wasn't mad like, "We just got exposed." He was mad like, "We're better than that. We know we're better than that. We know we can beat this team. We know we can win the Big Ten. We can beat anyone in this league." I asked him how good this Iowa team is, and he said they're good but that doesn't excuse what happened. Looking back on probably the most embarrassing performance of the season, the main takeaway was that they couldn't afford another one of these letdowns. 
  
Veronica Burton, sophomore guard: The Iowa loss definitely was a big one in terms of a learning standpoint for us. This came right after a big high moment for us against Maryland, but it definitely was a bit of a reality check. It kept us humble in that moment, but it also kept us so much hungrier. We had to go back to our roots. That was a crucial loss for us, but a crucial game as well.
 
 The Wildcats lost 77-51 to Iowa, and three days later they faced Minnesota on the road. The Golden Gophers had beaten Northwestern twice last season, and were picked to finish top five in the Big Ten by the media entering this season.
 
Kevin Sweeney, WNUR Sports: With Minnesota, [the Wildcats] had a bunch of road games coming up. They had at Minnesota, at Indiana, at Michigan State, and they were going to need to win some of these road games if they were going to be a legitimate contender to win the league. Minnesota was still kind of seen as a high-caliber Big Ten team at the time. They still had Destiny Pitts. They still had Taiye Bello. They were seen as a legitimate opponent. 
 
Parker Johnson, WNUR Sports: The thing I remember about that game is the Abi Scheid army that came out to watch her. When we got to the hotel, the Scheids were waiting for us in the lobby and gave us a nice welcome to Minnesota.

Kevin Sweeney, WNUR Sports: The Scheid family being there kind of helped calm the nerves. They got to see them all on Wednesday night when they got to the hotel. They also had a smoothie bar that night at the hotel, which was a lot of fun, another way that everybody just stayed loose. It was a trip that they knew there was some kind of reckoning coming where we were going to find out if this team was legit very quickly, and we were going to find out how they play on the road when they don't play their best basketball.
 
Noah Coffman, WNUR Sports: Northwestern looked like the much better team the whole way against a talented Minnesota squad, but Minnesota was just sort of hanging around by the skin of their teeth on ridiculous plays. All of a sudden you go from "gonna get a solid road win" to "Minnesota keeps hanging around. They might come back and steal this one." [Northwestern] was playing complacently down the stretch and had to turn it on to win.  

Northwestern led by 10 with just seven minutes to go, but the Golden Gophers chipped away. Minnesota had cut the lead to three with less than a minute remaining, and Jasmine Brunson tied the game with four seconds left. Timeout Northwestern.

Joe McKeown, Head Coach: Tangela Smith, my assistant who does a lot of our special out-of-bounds situations, her and I had put our package together. What had made it unique was we had just run the same play four or five possessions ago and we turned the ball over. I think Minnesota scored. In a way, that was fresh in our minds, so we basically baited them to do what they did last time, and we were able to get a backdoor cut 'cause they overplayed. Abbie Wolf made a big play, flashing and then hitting Burton. 

Lindsey Pulliam, junior guard: The ball went into Veronica. She made a great play to drive, and I kept coming in because I saw my defender losing focus on me, and Veronica dumped it off to me, made a great pass and the rest is history.
Joe McKeown, Head Coach: Pulliam made a great finish to win the game. There were a lot of people that touched the ball in five seconds. It was like a triple play in baseball or something.

Kevin Sweeney, WNUR Sports: The Minnesota game, we found that they could find a way to win when they're not playing their best.
 
Noah Coffman, WNUR Sports: That had all the makings of a classic extremely frustrating loss. Northwestern for all 40 minutes looked the better team. The fact the game was tied at all was bad looking back at that game. It shouldn't have gotten to that point. But that was the game that a lot of teams would've folded after letting it get to that point. They came back to run the perfect play. That Minnesota game was a game where I was like, "I'm looking at a very good team that is underachieving in this moment but is still getting the win." That was a different feeling for me.
 
Parker Johnson, WNUR Sports: [Scheid] was swamped after the game. We were trying to get interviews done with her after the game because she had a career high in points, and we had to talk to her really quick. She was like, "I'm sorry, I got people to go see."
 
Kevin Sweeney, WNUR Sports: Abi Scheid was treated like she was the Queen of England. She was unbelievable, the amount of people who had come out to support her, and I feel like that group really wrapped their arms around the entire team. It just made them feel a little bit more at home when you're on the road. There were plenty of baked goods to go around, and I think Abi had a tray that she was bringing back to Evanston with her. Everyone was eating and having a good time and celebrating. They definitely had fun with that one.
 
The Wildcats followed up their 56-54 win at Minnesota with a 61-56 victory over Purdue. They were now 14-2 overall and 4-1 in the Big Ten, tied atop the conference standings with Iowa, Rutgers, and their next opponent, Indiana. The 14-3 Hoosiers were poised to be Northwestern's toughest road test yet.
 
Ben Moskow, WNUR Sports: That was the trip where they made the TikTok.

Byrdy Galernik, senior guard: Honestly, I'm a big TikTok fan. I go on it a lot. Sometimes too much. Finished my homework early, had some time left before curfew, and the Harry Potter ticking time bomb thing was stuck in my head.

Meghan McKeown, former player: I was on that road trip with them at IU because I worked in Indianapolis, so I had a couple friends I was gonna meet up with. What was so interesting about this team was that they all liked each other. I played basketball my whole life. I played at Northwestern, and there's always divisions on teams no matter what. You always have your really good friends and your teammates, but there's always little cliques that form. With this team, you couldn't tell if there were cliques or not.

Byrdy Galernik, senior guard: After the bus ride in Indiana, we were just eating, and [the] people at my table were all finished, and I was like, "Hey, you guys wanna make a TikTok?" I just brought it out there, and they're like, "Sure." I was like, "Does anybody care who they want to be?" It was pretty nonchalant. People who were in it were very go-with-the-flow, so they didn't really care, but it was fun.

Meghan McKeown, former player: I think you look at that TikTok and you have Abi Scheid and Sydney Wood who start and then you have somebody like Brooke Pikiell who doesn't necessarily get a ton of playing time. But they all looked at each other as equally important. 

Byrdy Galernik, senior guard: The goal is always to go viral, and I honestly thought I was gonna go viral when I posted it. I was so upset for like a week. I was like, "This was really good," and this is not making it. Then like a week and a half later I come back from practice, I look at my phone, and my phone's blowing up. Friends, coaches, everybody's like, "Dude your TikTok's going viral." It took like a week and a half for it to catch some fire, but it was pretty cool. I like to hold my social media presence to a good standard.

Ben Moskow, WNUR Sports: It's wild to see how tight-knit everybody is. It's something that you can kind of pick up on by seeing them on the court, but when you're on the road with them, everyone's looking out for each other, they're making sure that they're in the right place at the right time. You see the incredible energy and focus in practice, and they're able to balance fun very well with working hard. I think a lot of them have this chip-on-their-shoulder mentality. That's what they had the whole season, and that's what the coaching staff was pushing. That was something that definitely shone through, that underdog mentality.

Indiana entered the game ranked 15th. The Wildcats, who were still unranked, had not beaten a top-15 team on the road since 1994.

Kate Popovec, Assistant Coach: I think Indiana is a really fun place to play. It's a tough environment, but it's a fun environment. 

Ben Moskow, WNUR Sports: It was the first time I did play-by-play on the road. I had had a couple games in the fall, so this was really one of the first times I had to contend with a raucous crowd. That's just not something we were getting in the non-conference season. It was incredible. Northwestern went out to this huge run at first, and we're like, "Oh my God. Is this team for real?" This was right on the heels of [crushing] Maryland, and then there was that one Iowa loss, but we were like, "Are they just gonna blow Indiana out of the water?" Then you see things start to regress to the mean. Indiana's riding their home crowd. Jaelynn Penn is hitting shots. Grace Berger had a couple buckets. Ali Patberg was doing great. Mackenzie Holmes was absolutely killing on the interior. We were thinking there's no way that they're stopping her. Abbie Wolf was in a lot of foul trouble, and Holmes was just putting post moves all over the place on anybody who was trying to guard her. They couldn't guard her without fouling, it seemed. 

Veronica Burton, sophomore guard: We had to stay upbeat especially with some of the runs that they were able to go on. Being down 10 going into the fourth quarter at Indiana is not easy at all.

Kate Popovec, Assistant Coach: When you're in the huddle, especially as a coach, one of the things you can sense is the energy of your team, and you can be saying things that they don't believe. You can sense their energy is defeated, or they're frustrated. Our team was so locked in. I looked at them, I'm like, "We're down 10 points. We're about to win this game." As a staff, I think [we] said, "We really don't have any idea how, but we're gonna win this game." The message to our team, something they've always bought into, is controlling the controllables, and that was on the defensive end.

Abi Scheid, senior forward: We all just knew what had to be done. We had to get stops on defense. 

Ben Moskow, WNUR Sports: A double-digit deficit, and there's [7:13] remaining in the fourth quarter, and they just clamped down on the defense. That was one of the spots where I was like, "This team has the best defense in the Big Ten." You have these guards that can come up with a steal at will, and you're bringing Jordan Hamilton off the bench who can do the same thing. That was unbelievable. They made every single defensive play, and then they ran the break, and they got the bucket they needed. Just worked together and found a way. I saw some tape of the huddle where Kate Popovec was yelling and being like, "Don't give up any more points! You gotta hold them right where they are."

Lindsey Pulliam, junior guard: There was one timeout where Pop came in the huddle and she was like, "Look. This is what we need to string together: string together some stops and go stop, score, stop, score." We all locked in like, "If we lock down on defense, we know we can make something happen on offense," and I think that's really when we locked in. The coaches were like, "We can win this game." I remember saying, "We're winning this game." We all just got together and said we gotta do whatever it takes.

Kate Popovec, Assistant Coach: All of us were like, "We have to get stops, and that will lead to opportunities to score. We will score, but in order to do that, you have to have control of the ball." That was something they locked into. In those last four minutes, I think we gave up three points. We took control of the game.
Veronica Burton, sophomore guard: This is what we prepare for. In so many of the shootarounds we go over last-possession games, last-possession moments. I was put in a great position to make that layup by our defense of Sydney and Lindsey, and their stop and steal that led to it.

Kate Popovec, Assistant Coach: There was no doubt that once we got it to OT that we were gonna finish that game. Again, I think being battle-tested in the WNIT and having to finish in such dramatic fashion for the entire month of March and April last year really prepared our kids.

Veronica Burton, sophomore guard: There was really never a doubt in my mind that we were going to [win] that game.

After making the game-tying free throw in regulation, Veronica Burton returned to the line in overtime with 32 seconds left and Northwestern trailing by one. She made both free throws to give the team the lead for good. The 'Cats won 71-69.

Meghan McKeown, former player: My all-time favorite game this season was on the road at Indiana when we came back from down double digits in the fourth quarter, Veronica hits that layup and she sinks those free throws. From that DePaul game, I always thought about how she missed those free throws, [and] for her to come back when it really counts against a conference opponent on the road was unbelievable.

Kate Popovec, Assistant Coach: Veronica Burton is probably the most humble, unassuming type of leader that you have. Her team just embraced her having that coming-out moment. Veronica had been playing really well, but that Indiana game, she took the team on her back. All it was was pure happiness for their teammate and for each other. That was really, really special. Easily, egos can get in the way of any type of success, [but] our team genuinely was so enthralled for each other.
 
Ben Moskow, WNUR Sports: People weren't exactly going off the wall (on the trip back). They probably celebrated like crazy in that locker room, and then they were kinda just like, "We got this one. Now on to the next."

Next was last-place Penn State at home on Sunday January 19, followed by a more challenging road trip to Michigan State on January 23.
 
Ben Krieger, WNUR Sports: The thing about any Penn State game is until last year, Joe had never beaten Penn State. Any Penn State game for Coach McKeown is not an easy one, even when it's a blowout win. You gotta go out and you gotta beat that team. Gotta shut down some of their top players.
 
Meghan McKeown, former player: I forgot to bring [the lucky shoes] for the Penn State game. My mom looked at me and was like, "You need to go back and get them." I was like, "We're not gonna lose to Penn State. We have to try to be like normal people and not depend on these shoes so much." 
 
Ben Krieger, WNUR Sports: Penn State was about now you're at home, you're playing an inferior team, are you going to let them beat you or are you going to take care of business? That's the difference between a team that loses two or three times in the Big Ten like Northwestern and a team that loses eight times like I thought the Wildcats might be. 

Meghan McKeown, former player: He had a different pair of shoes that game, and we actually ended up winning by like 30, so it was fine. We figured that was our one mulligan and figured, "Okay, better keep bringing these shoes."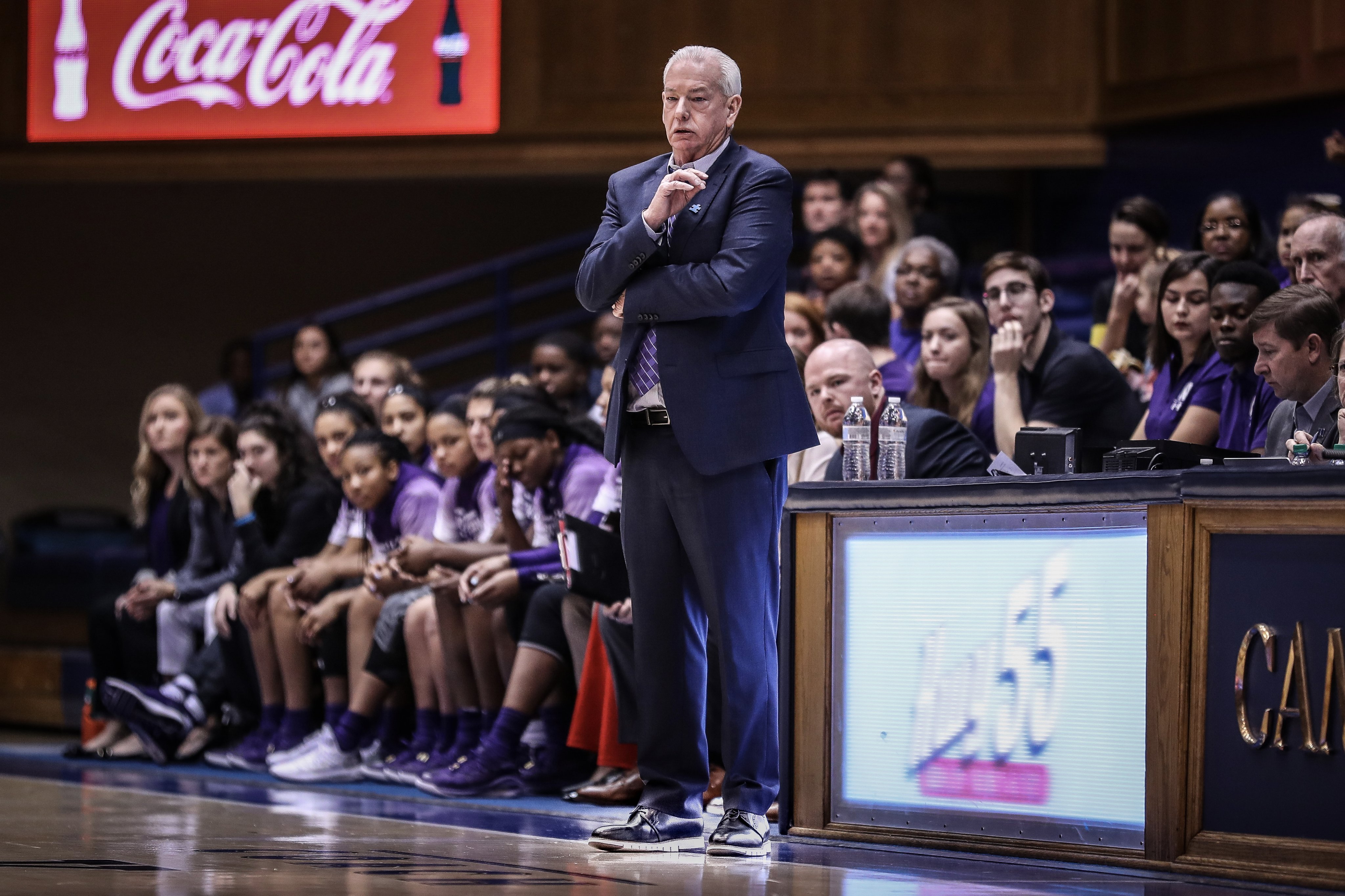 Kevin Sweeney, WNUR Sports:  There was a sense among the broadcasters that things were a little too good to be true and that there was another shoe that was inevitably about to drop. Michigan State coming the next road trip after Indiana, but before Maryland, combined with the fact that Michigan State was coming off one of their best wins of the year at Rutgers and had won 26 of their last 27 at home, it just had the feeling of trap game, trap game, trap game. 

Kate Popovec, Assistant Coach: We played on a really awkward night. It was an easy game to be a trap game, to kind of go in there and just be like, "Alright. We gotta cruise through this game. We're tired." 

Kevin Sweeney, WNUR Sports: Their first five minutes were about as disastrous as they come. The teams scored seven points in the first five minutes. This is going to be a 40-minute war. This is going to be an ugly game. 

The Wildcats were ranked for the first time all season. No. 22 Northwestern trailed Michigan State 5-2 at the first media timeout.

Kevin Sweeney, WNUR Sports: From those five minutes on, Northwestern was just dominant. Michigan State couldn't do anything offensively. They were turning it over like crazy. Veronica Burton was dominating. Lindsey Pulliam was playing great basketball. 
 
Kate Popovec, Assistant Coach: The win at Michigan State is one that is very underappreciated but was a really big one because Michigan State was gaining steam. To go in and win in the fashion that our kids did just showed how serious they are and how focused their approach was with every opponent that we had.

Kevin Sweeney, WNUR Sports: We have the Cardiac 'Cats label for football, but it really applies to everyone. There's just not a lot of blowout wins. That game was a blowout win, and it felt different. It felt like this is a Maryland-caliber team. There's a tendency in this league to constantly compare yourself to Maryland because they'd been such a force year in and year out. That was a Maryland-caliber execution of a win.
  
Ben Moskow, WNUR Sports: That stretch of two games was they're going in, they're expected to win, and they're expected to win by a lot. That was my moment where I [felt] like this is a top-tier team in the conference, and they're going into every game thinking this is gonna be a dub. That's not a feeling I've really experienced with a Northwestern team before, that sheer domination.

Not long after returning to Evanston from a 76-48 win over the Spartans, the 'Cats traveled to Maryland to take on the 20th-ranked Terrapins. Both teams lost to Iowa earlier in the month, but both teams had been perfect ever since, with Northwestern winning its next five games and Maryland winning its next four. The night before Sunday's crucial matchup, the Pulliam family hosted the 'Cats for dinner. 
 
Ben Krieger, WNUR Sports: They had pizza. They had wings. They had salad, and they had homemade jambalaya, I want to say, as well as crab dip with chips and spread, but the main things were pizza, wings and jambalaya. I don't remember if it was technically jambalaya or gumbo. I'm not sure if I know the difference. It was something with rice and sausage and shrimp and chicken, and it was delicious.

Lindsey Pulliam, junior guard: It was so much fun. Coming home is always a great time, and then being able to share my home and where I come from with my team and my coaches and our staff, it was awesome having them here and just being able to hang out with them at my house. It was just a great time.

Eli Karp, WNUR Sports: There were some forces working against them with timing. They were going to Lindsey Pulliam's family's house that night for a very nice dinner and obviously not the typical night-before-a-game activity. It was a great bonding trip. There were tales of the team playing Cards Against Humanity in Lindsey Pulliam's basement. I wasn't there for that, but by all accounts, the trip was about more than just the game. On the court, I thought they didn't necessarily play their best game and yet, they were ahead at the half.
 
Lindsey Pulliam, junior guard: [We were] trying to prove last time we beat them wasn't a fluke. We're actually a great team. We have what it takes to win this conference.
 
Eli Karp, WNUR Sports: Reports that Kobe died started coming at the very end of the fourth quarter. There's a text that pops up on my screen that says "Kobe…" I was doing a little digging and I'm like, "Oh my God. Kobe died." This is still a very competitive game going on. [The Wildcats] were within five points in the last two minutes. I'm trying to process all this, and meanwhile I have Ben next to me doing play-by-play who's a huge Lakers fan. He's not aware that any of this is happening, and I don't want to arouse any kind of fear or concern in him. Northwestern ends up losing by nine, and it was disappointing, but the trip ended in a way that had nothing to do with the game.

Ben Krieger, WNUR Sports: The game had ended, and pretty much right when it ended is when the news started to break. I was on my computer as part of the broadcast. I got the news right then. A lot of Northwestern parents were at that game because a lot of them have family in the Maryland area. All of the fans and everyone in the media was starting to get it. The players and coaches hadn't yet gotten it. They were going back to the locker room to get changed. 

Lindsey Pulliam, junior guard: After the game, we all came to the locker room. Coach pulled me, Scheid and Veronica aside, all three of the captains, to talk to us and basically say, "We're fine. We're gonna be alright. It's a game, and we're gonna learn from it and move forward." Then, we got finished with that, and we went back into the locker room, and I don't remember who told me, but somebody was like, "Kobe Bryant died." My heart just dropped. He's really meant the world to me. His whole mindset has really had a big influence on me, so that really hurt. It was a rough day for me, that's for sure.

Ben Krieger, WNUR Sports: To see the players come out and talk to their parents, just disbelief. It was hard because people are saying goodbye to their families and parents and then getting on a bus and immediately going to get on a plane. Obviously, it's not a helicopter. I can't say what everyone was thinking, but I know that I was just very sad, and it was not about the game. They wanted to win the game. They didn't get the win, but pretty much immediately I would think that was not a worry at that point. People were definitely more upset about Kobe and not only Kobe, but all other eight lives and three of them were young girl basketball players. That, I think, hit really hard, much more than the game itself.
 
Northwestern lost 70-61, but Kobe and Gianna Bryant's deaths were at the forefront of everyone's minds on the flight home. The tragedy continued to cast a shadow over the basketball world as the Wildcats prepared to close out the month of January at home against Michigan.

Christine Brennan '80, USA Today Columnist: I was in for a women's sports weekend at the end of January, and I came in a day early. It was a Thursday night, January 30, and I was at the Michigan game. It was a good crowd, and it was a great atmosphere.
 
Joe McKeown, Head Coach: Having been the one that spent a lot of time recruiting Lindsey in high school and then coaching her, this is her junior year, she modeled a lot of her game after Kobe and was really upset. We just tried to comfort her. I think it inspired her too. 

Lindsey Pulliam, junior guard: [Kobe's] mindset, having that Mamba Mentality, like, "I don't care who you are. I'm gonna do whatever it takes to beat you," and just having that mindset that I'm better. In terms of my actual game, one of the things is definitely when I post up my turnaround fade away, that's definitely one thing I try to mimic from him.

Joe McKeown, Head Coach: She wrote on her shoes. She took it and turned it into, "I'm playing for my team, but this is what I'm thinking about." It was incredible.

Lindsey Pulliam, junior guard: Kobe Bryant has shaped a lot of my mentality, my game and how I approach not only basketball, but how I approach life and other things, like in the classroom. I felt like writing his name and Gigi's name on my shoes was the right thing to do and something I needed to do to pay tribute to everything he's given me in terms of my game and my mentality. 

Joe McKeown, Head Coach: She's had a lot of great games, but that was one of her best ones as a Wildcat.
Lindsey Pulliam, junior guard: I didn't realize it until after the game, Dr. Phillips spoke in front of the team, and he said "24 + 8 is 32," and he looked at me, and that just showed me [Kobe] was with me in that game for sure. 

Jake Liker, WNUR Sports: Being from L.A. and being a basketball fan from L.A., what happened to Kobe and Gigi and everyone on that helicopter was just shattering. There was just something comforting about watching Lindsey play in that context because she really does remind me of Kobe. You can see his influence in her game, in her attitude, in her confidence. It was nice to see that his legacy was going to be carried on in all facets of the game, and I think Lindsey had that Mamba Mentality in her. For someone who's watched Kobe all his life, I think it was really evident in her more than anyone else I saw play in person in the several weeks or so that followed Kobe's passing.

Christine Brennan, USA Today Columnist: Of course, Lindsey Pulliam is the team leader, and the ways she pulled us out of trouble over and over again was extraordinary, but even though you'd say she's the star, she's the leader, they're all in this together, and she doesn't act like anything more than just another incredible cog in this machine that was just firing on all cylinders. I'm not sure it wasn't something that I didn't already know, but [the Michigan game] may have confirmed it for me, just the camaraderie among the players. The friendships, the respect for one another and the way that this team was put together was magnificent. Everyone in it for each other. Everyone pulling together as one.
 
As the calendar flipped to February, the Wildcats prepared to play Penn State again, this time in Happy Valley where they hadn't won since 1997.

Kevin Sweeney, WNUR Sports: It was relaxed. Maybe a little too relaxed. There's an inevitable midseason lull that happens when you're really good and you play a really bad team on the road. That's why things like that can happen. There are always upsets, and they happen because teams overlook other teams. I don't think they totally did that. They just didn't come out completely sharp in the first half, and that allowed them to hang in.
 
Noah Coffman, WNUR Sports: You watched that first half, it was 38-37 [Penn State] at halftime, back and forth action. Penn State hit a lot of shots. Northwestern hit a lot of shots. Even though it was close at half, I never even considered Northwestern losing the game. 

Joe McKeown, Head Coach: That halftime was really technical, it wasn't really that emotional. It was more, "Look, we're fine. They can't play with you for four quarters." I told our players, "Especially at home now at Penn State, they're gonna stay with you." They've stayed with everybody for a half, or three quarters, for the fourth quarter. They'd struggle a little bit late in the game. I didn't think we were playing bad, I just thought they were playing well. We made a couple of adjustments. 

Noah Coffman, WNUR Sports: And sure enough, they came out of halftime and they just exploded. That became such a staple of what this team could do. Even when teams are hanging around, they could turn it on in the second half. People talk about how you can't just flip the switch. This team absolutely could do that. They did it four or five times over the Big Ten slate where they weren't even playing badly in the first half, but just playing a close game, and then all of sudden kicked it into a gear that their opponent didn't have. That was one of the things that was really special about this group.
 
No. 23 Northwestern won by 23 points, 82-59, its first victory at Penn State in 23 years.

✶ ✶ ✶ ✶